Determine what matters to your mission, board, and donors, what data will help you best improve year over year, and how to track so you can show your true grants impact.
---
It's no longer status quo for foundations, associations, universities, and other granting organizations to assume that a grant's good intentions or good-faith effort resulted in the desired outcomes for the community it serves. Today the focus is squarely on impact grantmaking -- not only giving but showing the real results that come from it. While not simple, it's important to spend time developing a plan to participate in quality grants management reporting that measures a grant's impact over time. Establishing the right key performance indicators -- or KPIs -- for your grant at the start can help you best report on its impact.
Choosing what to track
Data is only as powerful as it is helpful, so deciding what you want to know is the first step in deciding how to collect the data that will tell you.
While every organization will end up with a personalized list of factors, nearly all can consider these KPIs as the general backbone of any impact measurement for your grant:
KPI #1: Granting stats. It's easy, and best, to start at the beginning, with your organization and the work you have done. Consider your mission and goals, and decide if you want to measure:
How many grants you've awarded

How many program areas you currently fund

How much money you've allocated each year

How many grant applications you received last year, last quarter or last month

What kinds of organizations submitted grant applications

Where were they located
KPI #2: Grantee Participation. After you have your baseline data on the work your organization has done, you want to review how your grantee's carry out your foundation's work. For instance, how many people did your grantees collectively serve last year? How many programs did they complete? How many people participated? What were their demographics?
KPI #3: Short-Term Success. At its heart, your foundation wants to collect information about how the programs you fund affect the lives of those who benefit from your grantmaking. This KPI can be rather challenging because you want your grantees to submit data about their grantmaking impact in a format that is ideal for your organization. This means you might have to take time on your end evaluating the data provided by your grantee. For example, your grantees might conduct interviews and focus groups to learn more about their programs' impact. This would be great insight to share with your board, but something that will definitely take more time on your end to evaluate.
KPI #4: Long-Term Success. Measuring impact becomes more complicated as time passes. That's because it requires the organizations you fund to follow their program participants over time and share results back to you. This might not be too hard for foundations that have long-term relationships with grantees who fund programs year-over-year. But for smaller organizations, or grantees that are new, measuring long-term success is a heavier lift. Measuring long-term success requires surveying participants regularly to find out whether or not the desired impact was not only achieved, but maintained over time. If this is important to you, you might want to consider funding your grantees to track it specifically to your liking, or hire a third party to measure it for multiple grantees.
KPI #5: Community Impact. How does your grantmaking affect the community at large? Generally, this type of KPI is more suitable for larger grantmaking foundations to measure, but is worth mentioning for smaller organizations as a goal. In many cases, public data plays a factor in trying to benchmark your organization's work against community changes. For example, you might want to evaluate how the program you funded impacted a city's unemployment rate. This is not an easy task. What else might have been going on in the city at the time of your program? Were there other reasons for a drop in unemployment? This can be complex and require a lot of resources. That's why we generally recommend that larger organizations focus on this KPI.
Creating a plan to track it
There's no way around it -- effectively tracking the impact of your grantmaking takes time and effort. You might already collect some of this information -- it may be in your grant application or a survey you send to grantees after they have received funding. And then you might be tracking it -- perhaps in a combination of spreadsheets, databases, emails, and even hard copy. It's a start, but not only is this approach cumbersome, but this type of disparate data only gives you a glimpse into the true impact of the grant. Measuring impact -- especially over a longer period of time -- means not only understanding how your team's efforts made a difference, but how your grant impacted the community at large.
Grant management software can be a true help in collecting, tracking, and reporting your impact. Once you have your KPIs established, ensure all the data you will need to track them have a place in your process. This may mean editing your application, requesting additional information, or sending out post-award surveys or requirements through the system. That way all your data in in once place, and generating your reports is quicker and more accurate.
The key takeaway -- planning is key. By stepping back, looking at the whole picture, and ensuring your entire process is set up in a way that facilitates easier collection and storing of your data, your impact reporting will greatly improve.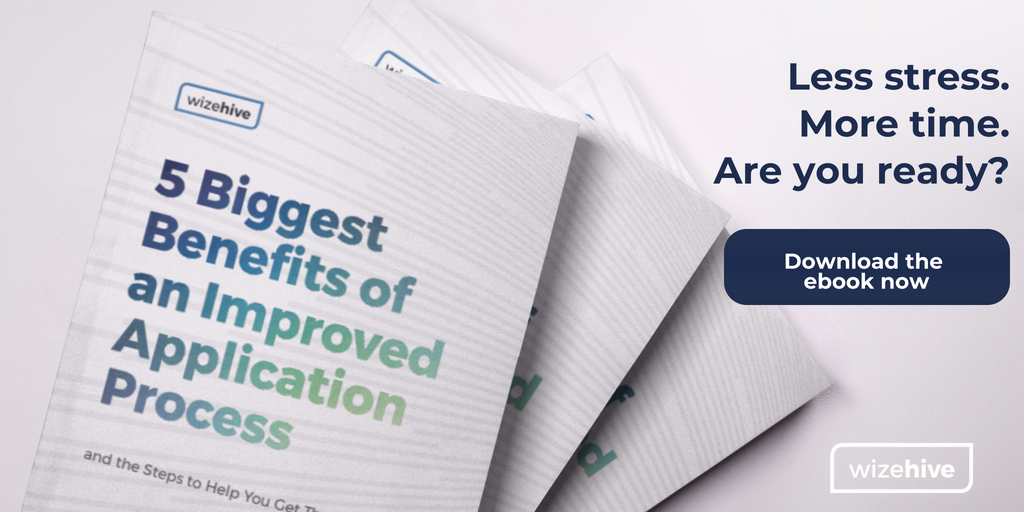 Want to know more?
Sign up to receive notifications on new blog posts from the WizeHive team.