More and more nonprofits are feeling the pressure from both a moral and political standpoint to ensure there is diversity represented in their staff, grant applicants, and the projects they are enabling. Learn about the true value of a comprehensive

diversity initiative and how to get started.
---
In a 2017 report from The Center for Effective Philanthropy, 100 percent of foundations and more than 90 percent of non-governmental organizations (NGOs) believed that diversity would help organizations appear more connected to communities. And 90 percent of both groups indicated that diversity would lead to increased creativity.
But when it comes to diversity among nonprofits, there is significant room for improvement. Many nonprofits are not keeping up with the demographic shifts in the general population. For example, nearly 30 percent of the population is comprised of people of
non-Caucasian backgrounds
, a figure expected to grow to 50 percent by 2042, according to U.S. Census data. And the Hispanic/Latino population is one of the fastest growing minority groups in the country, currently representing 15 percent of the overall population. These population increases are already contributing to changes in the labor pool. Within the next five years, more than 43 percent of new entrants to the workforce will be people of color.
This kind of growth reinforces the need for nonprofits to reflect the communities they serve. Today, only 18 percent of nonprofits and 22 percent of foundation staff is comprised of people of color, according to Community Wealth Partners. For foundations, this number only gets smaller in leadership and board member positions.
It's no secret that when a team includes people of different genders, ethnicities, cultural backgrounds, or sexual orientations, it produces more creative, innovative, and effective results. That's because diverse groups offer a wider range of experiences, and don't simply recycle the same ideas produced by people of similar backgrounds. According to a January 2018 McKinsey & Company report, "Delivering through Diversity," companies with the most gender diversity on their executive teams were 15 percent more likely to experience above-average profitability than their counterparts. With such positive results to the bottom line, nonprofits of all kinds are feeling the pressure from a moral and political standpoint to ensure there is diversity represented in both the grantees and the projects they enable. Consider these ways to get started:
Create a dashboard to live monitor submissions based on demographics:

Capture candidate data from your existing applicant tracking systems. Track and review your pipeline based on a predetermined list of attributes, such as race, gender, LGBT status, veteran, and disabled identities. There are other platforms that use algorithms to search for applicants from underrepresented groups. You specify who you want to target (based on skills, gender, or ethnic group), and the tool sifts through social media profiles and other online data to gather clues about a candidate's gender, ethnicity, or military experience. This information is then layered on top of an applicant's qualifications and skills, ensuring that hiring practices aren't discriminatory.
Market to applicants in underrepresented areas:

In an applicant search, move beyond your typical networks to find channels that target specific communities. The most effective and targeted recruitment strategies involve partners. Consider who already represents the communities you are targeting. Think of specific professional associations, educational institutions, alumni networks, religious groups, cultural societies, clubs, websites, Facebook groups, or publications you should target that are an integral part of an underrepresented area.
Create blind reviews to remove bias:

Only seven percent of nonprofits surveyed redact information from resumes before they are reviewed (e.g., names, addresses, educational backgrounds), according to

The Center for Effective Philanthropy

. This is a missed opportunity for many nonprofits. Your application process can black out candidates names, for example, to remove bias. This helps you and your team evaluate applicants based on their skills and experience. First impressions, even just a name on an application, can sway reviewers. Consider removing other areas, too, like ethnic background, gender, education, age and personal interests. In 2015, Google did something similar by no longer recruiting applicants from top-tier universities. Today, they care more about what applicants can offer and how they can solve problems, rather than where they went to school. To date,

14 other companies

have come on board and no longer require college degrees to apply for their top jobs.
Support diversity from the inside out:

Your company culture should reflect your goals when it comes to diversity and can make your nonprofit even more attractive to a diverse group of applicants.This is especially helpful in your recruitment efforts to attract a more diverse applicant pool. Start by reviewing your current LBGTQ policy, or creating one. Review your time off policy and celebrations to recognize important holidays among diverse religions and consider creating a paid parental leave policy, if you don't already have one.

If you need to start with the basics, consider creating diversity training and education for your organization. All levels of your organization--from management to interns--should understand that hiring decisions are based on finding the best candidates and not fulfilling quotas. Being transparent with your diversity efforts can help ease the minds of your most skeptical employees. All of your employees should fully understand the benefits of a diverse workplace, so they can help actively recruit for a more diverse talent pool.
Ensure a diverse review team

: In order to ensure a diverse applicant pool, include key people who who are committed to these ideals on the applicant review committee. Recruit members from the internal diversity committee, if you have one, or ask for recommendations from other staff members or employees within the organization. Consider including people from other departments, too, such as often overlooked underrepresented groups. Some organizations require at least one female reviewer or underrepresented minority on all review committees. Remember, diversity is not simply race, ethnicity, and culture, but also sexual orientation, gender identity, age, language, abilities/disabilities, socioeconomic status, geographic region, or other defining characteristics.
Ensuring a diverse applicant pool is complex and doesn't happen overnight. However, with the right amount of time and senior leadership support, your organization could see the benefits of stronger business performance based on a more diverse pool of applicants and the projects you fund. In the meantime, consider your strengths. Applications that are easy to access, understandable, and are compliant with The Americans With Disabilities Act (ADA) will always help make your nonprofit more accessible to a more diverse group.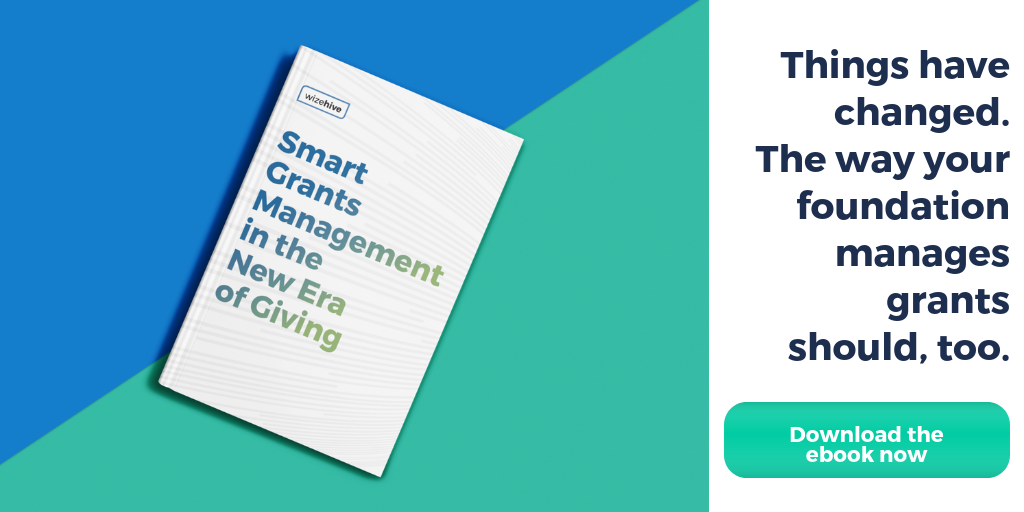 Want to know more?
Sign up to receive notifications on new blog posts from the WizeHive team.