Keep the applications coming in, on track, and on target with simple emails and automations that clarify and communicate.
---
Reminder emails are everywhere. Think about other industries, like healthcare or retail, and the role of reminder emails or notifications. Patients who sign up for automated medication reminders through email or a mobile app are more likely to adhere to their medications. That's a big deal when it comes to managing chronic conditions like heart disease or diabetes. And online eCommerce shopping sites send reminders to make sure consumers purchase what's left in their online carts.
The same thinking can be applied to the application management process. Email communications and reminders for applicants can enhance your process and pool of candidates -- and make it easier for your in-house team to manage everything. When applicants are better informed and engaged, your internal teams can focus on other objectives rather than spending all day routing applicant questions.
With an application management software solution in place equipped to handle automated emails, consider these top seven email communications to send applicants:
Promotional email. Your organization's email strategy starts before applications begin. Start by reaching out to your database of previous applicants -- or those who were not selected -- via email to promote new or upcoming applications and key deadlines. Or, attract new applicants with an email opt in form on your organization's website or landing page. The email marketing gurus at MailChimp saw customers' email databases grow by 60% when a pop up or email opt in form was added to their website. Include this growing list of email addresses in your marketing efforts to capture the best pool of applicants.
Welcome email. Capture an applicant's attention by sending a welcome email. Welcome emails can be triggered easily when an applicant registers for an account or begins an application, not just when it's completed. Personalization also goes a long way with welcome emails. Consider adding resources like a FAQ or a list of application pointers. Is there a specific part of your process that applicants' struggle with, like the project budget section for grant applications? Include some pointers in your welcome email. But don't go overboard. Brevity is key here because there are other critical touchpoints.
Upcoming deadline email. Deadline reminders can help increase the number of qualified applicants for your grant or scholarship. You don't want to miss out on great applicants because they failed to upload a tax form or a list of references by a certain deadline. Automate these emails based on dates particular to your application and set them up frequently. For example, remind applicants one week before an upcoming deadline and again one to two days before to increase the number of submissions.
Confirmation email. At the very least, all online grant and scholarship management systems should generate an email to applicants letting them know that their application was received. These emails can be customizable to allow the grantmaker to include information the applicant will need to follow up on, such as a tracking number, in-house contact information, and next steps in the review process.
Change in status email. Is there a second review stage to your application? Let applicants know the status with a change in status email. This helps internal staff, too, since they won't have to field emails or phone calls from applicants asking about the status of an application.
Declined email. It's not always the best message (or email) to send, but an email letting submitters know that their application is no longer under consideration is a best practice. Applicants will be thankful they know where they stand and your staff can remove these contacts from the pipeline.
Thank you email. This type of email should go to everyone who applied for your application or grant -- not just those selected or awarded. Here's where you can also get feedback on your process by including an applicant survey in the email. This is a chance to ask applicants what they thought of the reminder emails, as well as how easy you make the grant or scholarship application process overall. Use the thank you email as an opportunity to build your pool of applicants and encourage those to apply again next year.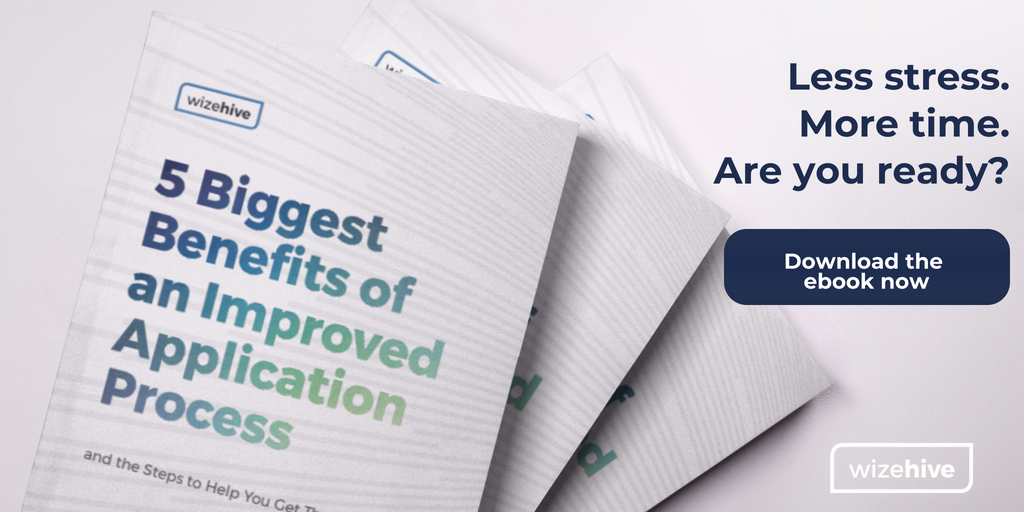 Want to know more?
Sign up to receive notifications on new blog posts from the WizeHive team.