The answer to modern application management needs
---
Remember when an application was a piece of paper? When ball point pens were as crucial to the process as dot matrix printers and carbon copy signature sheets? We barely can either.
Your application process isn't flat anymore -- it's probably a web of moving pieces including essays, transcripts, letters of recommendation, surveys, and more, all completed over multiple stages of review. Times have changed. Your needs have changed. It's time your application changed.
Introducing the Zengine Submission Portal from WizeHive, a new, dynamic, flexible, and multi-dimensional application destination. Our portal was designed to simplify data flow and communication throughout the full lifecycle of your relationship with applicants and grantees, no matter how complicated your process might be. With a single user name and password, your applicants can now experience applications in a brand new, less-stress, and easier to follow way. With stored profile data, the ability to clearly see every step in the application process, pause and return, and more, what can feel like an arduous process becomes simplified.
And that goes for you, too. You and your team will enjoy easier submission tracking, better response rates, and simplified views of all applicant data. And once the application is submitted, the portal continues to be a go-to destination for status updates, award notifications, progress report submitting, and more.
This all means less time tracking down files and emails, fielding calls from confused applicants, and manually initiating additional review stages and steps. Which also means more time to focus on your awardees, their projects, and your impact.
Let us show you how...
Simplify long, complicated forms into easy, bite-sized tasks
The submission portal makes it easy to break up an application into multiple stages. Instead of one long, intimidating form, your applicants see a handful of clearly outlined steps they will need to complete. This helps them manage their time, ensure they have the items needed to continue, and greatly increases the quality of responses as well as the rate that make it through to completion and submission.
Portal profiles and multiple submissions. Applicants can quickly create personal login, complete their profile, and begin applying to any of the programs in the system. Applicants can even use the same login to submit multiple applications, allowing their profile information to be applied to each submission automatically.
Multiple submission stages. Break up a long or multi-stage process into easy-to-tackle steps through the portal. For example, start with an eligibility quiz, only then showing step two to those who qualify. Or wait to request long essays until after an applicant has made it through a first round of review. The submission portal allows you to easily implement processes that follow any order you'd like.
Clear progress indicators. As they navigate the stages of your application, applicants can save their progress as drafts and clearly view the status of each task. As they type, the data also auto-saves regularly to prevent accidental loss. Only when every required task is finished can they then submit their complete application.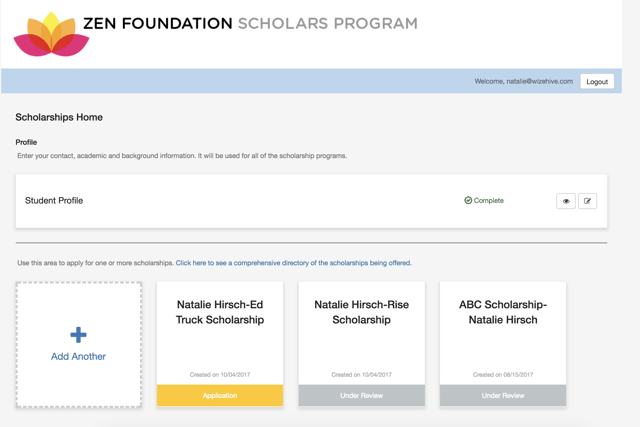 Request item minimums and maximums. Get exactly what you need. Set a minimum and maximum number of items for any task, ensuring the applicant provides what is being requested. For example, require at least two references, but no more than five. If a submission doesn't meet your criteria, the system will notify them and won't let them continue until amended.
Manage the review process from one convenient location
Personalized dashboard. Just like with our web-based application forms, submission portal data is stored in our easy-to-use admin panel. The additional steps you've built into your applicant experience are also utilized here, allowing you to see who did or did not pass eligibility questions, which stage every applicant is in, who hasn't returned to their application to complete it, and more. You can also build in automated emails based on these statuses, suggesting other programs to ineligible submitters or reminding applicants to return and submit abandoned applications.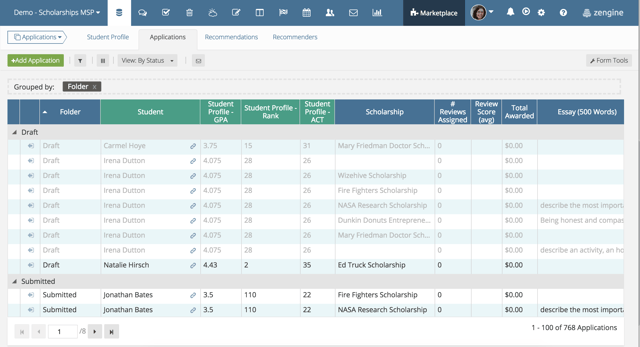 Admin editing controls. Need to quickly add in a question you forgot before your application goes live? Want to update an existing form for a new year? Once your submission portal is set up, it's yours to edit as needed with simple, intuitive drag and drop controls. Switch radio buttons to checkboxes, add in a new answer option, or create a whole new series of questions as you need them.
Reviewer portal with related data viewing. The reviewer's portal gets an upgrade as well when paired with the submission portal, allowing reviewers to not only see the application in easier-to-digest stages but also related data stored in the system, such as submitted letters of recommendation or transcripts, non-profit status verifications, or even feedback left by other reviewers.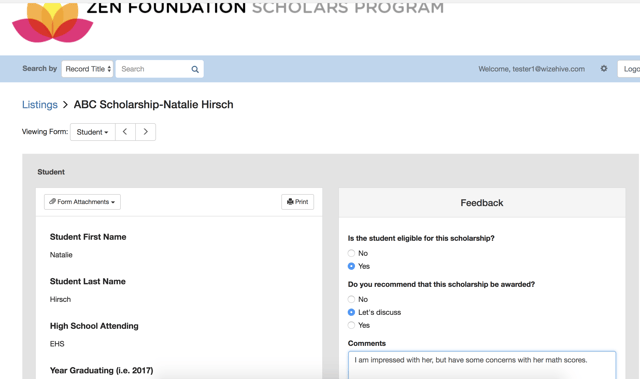 Continue data gathering and sharing post-award
Your process doesn't end when the grant or scholarship is awarded, so your system shouldn't either. Any data that you want to share or collect from the awardee can be handled via the submission portal. Allow the awardee to view the award details, then accept the terms. Or collect progress reports or require survey feedback that automatically ties back into your reporting dashboard.
The Zengine submission portal was designed to be flexible and configure to meet your organization's unique process. Ready for a change? Reach out to learn more about the submission portal and how we can modernize your process.
---
Submission portals are currently available to customers using Premium and Enterprise plans. Tell us your current process, and we'll help you determine how a submission portal can improve your data intake and communication with applicants and grantees. Contact us to discuss the possibilities today!
---
Want to know more?
Sign up to receive notifications on new blog posts from the WizeHive team.