Check out four release updates that make Zengine an even better experience for you and your constituents.
---
There is always room for improvement -- always -- and that's why our Development team has a running list of ideas on ways we can continually make our Zengine platform easier, quicker, and more helpful for our customers. Over the last few months we've put a few of these into practice. Check out some of the biggest updates released during the first quarter.
Improved Applicant UX
Your applicants need a seamless, clear experience, and we made several updates to our Submission Portal to ensure they are able to easily see their status and any next steps. To do this we updated the Profile completion message to both confirm that their information has been successfully saved and that the next step is to initiate a submission. We also updated the tooltip wording on a submission card to let them know when no additional action is required.
Improved Workspace Member Experiences
When you and your team are in the weeds, making changes, and gearing up for a new program launch, it's always good to have someone looking out for you and making sure important information doesn't get lost -- or deleted -- in the shuffle.
In order to prevent workspace members from accidentally deleting data, we made two improvements. If you leave a record but have not saved it, you'll receive a new warning message. And if you opt to delete a workspace or form, you'll receive a similar warning message, this one requiring you to confirm by typing out the element's name that you, indeed, want to delete it.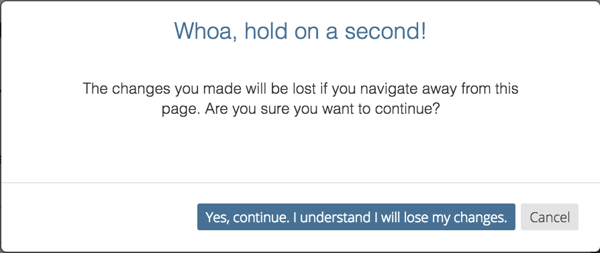 Application Deadline Feature
Deadlines are now an option for every submission portal, and can be added to each stage of a submission. This means you can now have one deadline for eligibility, another deadline for the full application, and even different deadlines for your post-award processes like progress reports.
The number of days until the deadline (and then the number of hours once they get closer) is clearly indicated to portal users. Once the deadline is reached, your applicants will no longer be able to click the submit button. However, any work they already completed will be saved for administrators to access. This puts the control back in the administrator's hands to keep the process fair, but also make exceptions for extenuating circumstances.
If you have an existing submission portal, then by default deadlines are turned off.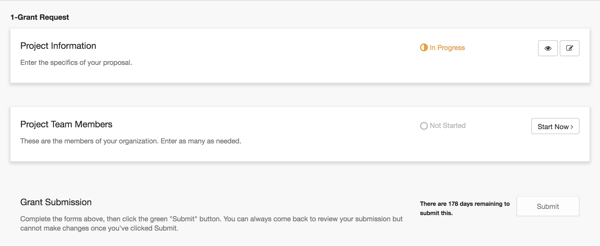 Filter by Status on Review Portals
Reviewers can now filter their list of submissions based on status: Not Reviewed, In Progress, and Reviewed. This helps them focus only on the items that require their attention, particularly helpful if your reviewers receive a large number of applications to review.
For review portals that use tabs to separate submissions by category, the reviewer's chosen filter will carry as they navigate across tabs.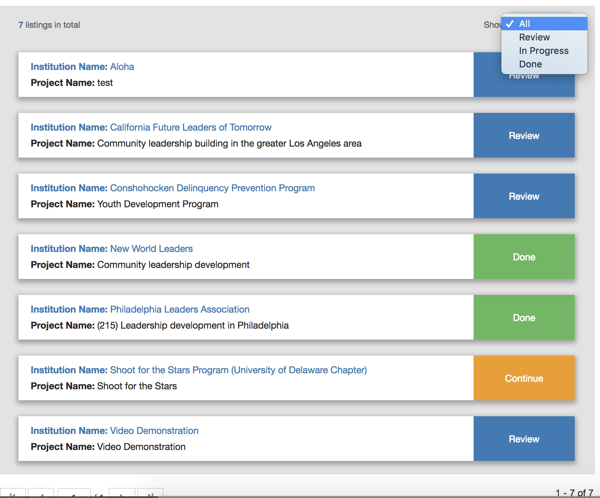 Want to stay up-to-date on all of our new features and releases? Check the Zengine Knowledgebase for monthly release updates.
Want to know more?
Sign up to receive notifications on new blog posts from the WizeHive team.