You've heard how storytelling can enhance your connections with applicants, donors, and the public, giving your organization personality and encouraging emotional buy-in. Here's how to get started.
---
From conference keynotes to nonprofit webinars to blogs like this one, the theme of "storytelling" is everywhere these days. And for good reason: storytelling is a valuable tool in any marketing mix that can help you connect with donors, partners, applicants, and the community as a whole. By finding a human element and not just pushing hard facts but a curated, emotional tale, many organizations are already reaping the benefits of a storytelling -- like Charitywater.org, which we talked about in a recent post. But if storytelling is THE buzzword in the industry, why isn't everyone doing it?
While storytelling is valuable, it's only effective if it's done right. Consider these tips to thoughtfully include storytelling into your nonprofit marketing mix and begin brainstorming the storylines that will help you get started.
Start with the basics: To incorporate storytelling, start with how your organization was founded. What is your mission and value proposition? Has your non-profit stayed true to those ideals? Be as authentic as possible about why your nonprofit was founded to pique the interest of those who might want to donate or volunteer, and set the foundation for your marketing.
TOMS does a great job of sharing how they were founded and what their mission is in a few short words with the tagline "one for one." Through purchases, TOMS helps provide shoes, sight, water, safe birth, and bullying prevention services to people in need, bringing to life their "one for one" mantra. Making your mission and values prominent in all of your marketing materials -- social, web, event materials -- helps bring the story of how you were founded to life.
Tell an incomplete story: Surprisingly enough, you can tell a story even if it's not complete. Gone are the days of only telling your nonprofit's story once its complete and the impact has been successfully evaluated. Use storytelling to share the important work you're doing while it's still happening. KaBOOM!, an organization dedicated to bringing active play into the daily lives of all kids, particularly those growing up in poverty, can't help but tell their story while it's happening.
The nonprofit builds playgrounds with the help of thousands of volunteers in local communities. KaBOOM! invites their audience into their story as its taking place -- through tweets, Facebook posts, and live video -- to prove their commitment to their projects and potential partners. They showcase images of the construction of new playgrounds, pictures of volunteers shoveling or taking a water break, and finally a ribbon-cutting of a finished playground.
While it might seem easy for an organization like KaBOOM! to tell their story while it's happening, think about how it could apply to your nonprofit. If you're working on a three-year long project, share updates with supporters to make them feel like they are part of the process. Not only does this offer proof of your work, but it creates a live feed of content that becomes an interesting journey for your followers.
Share testimonials: Storytelling has the ability to move people -- donors, employees, partners, the community -- to action by connecting them to what your organization is trying to solve. Who are you helping? How has your organization made a difference to one person, a company, or a community? There's many ways to tell these stories and feature different people who might be impacted.
EB Research Partnership (EBRP) is dedicated to advancing treatments and finding a cure for children with Epidermoysis Bullosa -- a life-threatening skin disease. To move people to action, EBRP created video campaigns highlighting the testimonials of individuals living with EB. EBRP also utilizes their board members, one of whom happens to be Eddie Vedder of Pearl Jam, to share their own story and why they have felt compelled to support the cause.
Whether it's the person on the receiving end of your nonprofit's good work or a board member, putting a face to your cause and sharing testimonials in written or video format is one of the most effective ways to connect emotionally with your audience. Adopt this at your organization by asking a board member or employee to share their history with your nonprofit. What made him or her become deeply engaged with your mission? What keeps them motivated? Why do they believe in your cause?
Share what's on the inside. Sharing testimonials from your grantees, board members, or other constituents is impactful, but don't forget to share what's on the inside, too. Giving an inside peek into your organization's culture and its team is also an effective way to incorporate storytelling and build trust. And with limited staff and resources, sharing employee stories might be a quicker win.
Flip the focus to your funding. All this is a great way for supporters and the public to learn more about your organization; now it's time to learn more about the grant seekers who keep your organization moving. Charge applicants to your programs and funding opportunities to utilize storytelling as part of their submission. While a first-person account of their plans and drivers is a start, consider having them share photos, videos, and other elements that can enhance their story and help your review team truly get to know them and what they will do if awarded.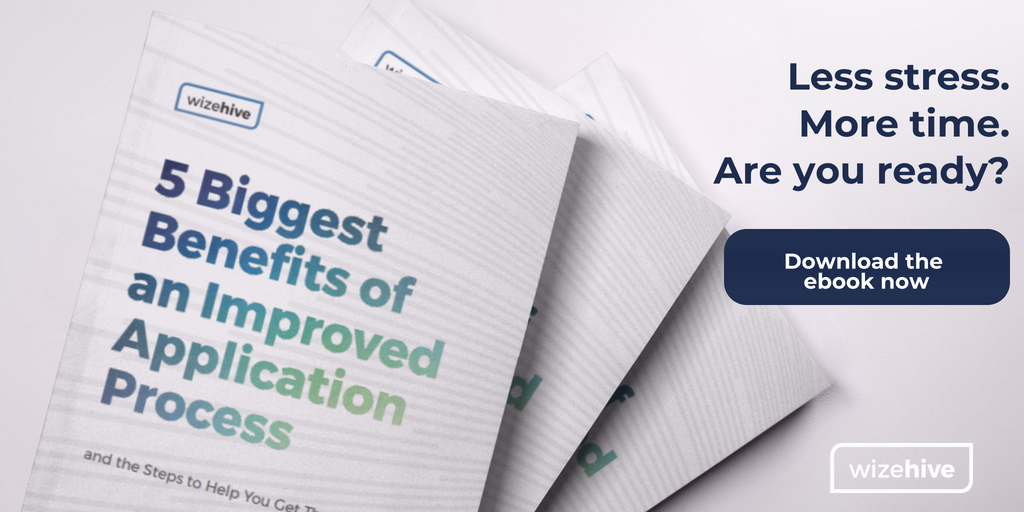 Want to know more?
Sign up to receive notifications on new blog posts from the WizeHive team.